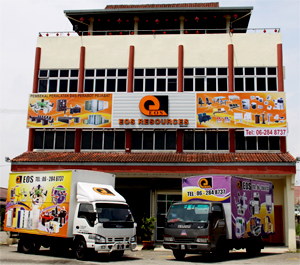 EOS RESOURCES SDN BHD is a private limited company based in Melaka and has been in business since 1984. It is currently active in the business of supplying office automation products, office furniture and workstation as well as the maintenance of these products.
During the early beginning of EOS RESOURCES SDN BHD, the business activities were mainly on office automation, specifically photocopiers and typewriters. In 1986 we were appointed as a sub-contractor in the maintenance of photocopiers in the southern region for various government contractors under the nationwide supply scheme. For typewriters, in 1986 and 1991 we were appointed the sub-contractor for delivery and maintenance of manual typewriters. After having been in the market for nearly 10 years, we then also ventured into the office furniture line and soon became a notable retailer of office furniture.
EOS RESOURCES SDN BHD is today a financially secure and modern company with its own showroom & warehouse. We have our sales, technical and logistics teams to work together to build a reputable company. EOS RESOURCES supplies a wide range of models of office furniture and workstation to cater for every office needs. On the local market, we have an extensive network of dealers and clients. We are also the service provider for Tele Dynamics Sdn Bhd for TOSHIBA photocopiers. To ensure efficient deliveries, EOS RESOURCES has invested in 2 units of 3-ton lorries and a car as our delivery vehicles. Through the years, we have also undertaken and successfully completed numerous projects.
EOS RESOURCES will continue growing its business to meet customers' needs and demand. The continued expanding efforts will create a new horizon and open up unexplored market opportunities.